Cow Print Canvas Satchel Bag Purse, Cross Body Bag
Regular price
$98.00 USD
Sale price
$58.00 USD
Unit price
per
Sale
Sold out
Introducing our Cow Print Canvas Satchel Bag Purse, Cross Body Bag! This fun and fashionable bag is perfect for all your daily needs. The stunning black and white canvas makes it a great accessory for any outfit. The spacious interior has plenty of room for all your essentials, and the adjustable cross body strap allows for comfortable wear all day long. Whether you're heading to work, running errands, or enjoying a day out with friends, this bag will quickly become your go-to accessory. Don't wait - order yours today!
Have you been looking for a stylish floral purse and you haven't been able to find one when shopping for purses in local boutiques?
Introducing the Cow Print Crossbody Purse, with buzzing bees and subtle honeycomb background. It's such a beautiful shoulder bag! It is rigid, so it holds its shape and is large enough to carry a 10.5" x 7.8" tablet and your other essential items.  It features one small inner zipper pocket to hold your keys or cash securely. It also features two open inner pockets for credit cards or other small items. The purse is printed on all sides so no matter how you carry it, the stylish cow print  design shows.
REASONS WHY THE COW PRINT CROSSBODY PURSE IS A MUST-HAVE:
 WATERPROOF CANVAS BAG: The purse is made of a rigid, waterproof material so if something is spilled onto the purse, you can easily wipe it up without ruining the purse. The canvas texture adds a little style to the overall aesthetic. 
 PERFECT SIZE: The purse is large enough to hold most standard-size tablets, so you can take your tablet with you to meetings, to your local coffee shop or to the library for homework. The handbag measures 10.63"(L) x 4.13"(W) x 7.87"(H) so works well for iPad storage, as a small business briefcase, or a college bag.
 DETACHABLE SHOULDER STRAP: The purse comes with a vegan black shoulder strap that can be adjusted from 44.1" to 48.8" so you can adjust it to the perfect length for you. The strap can be removed if you prefer to use this purse as a handbag. 
 HANDBAG STRAP: The purse has a vegan black hand strap with a 2.75" hand drop for comfortable carrying.
 HOW TO USE

When your purse arrives:
1. Remove it from the package and from the bag.
2. Remove the packing material and scent packet from inside the purse and discard.
3. Put the shoulder strap on your shoulder. Adjust the shoulder strap using the buckle so that the purse rests in a comfortable position. 
NOTE: To use the purse as a crossbody bag, adjust the strap to one of the longer lengths.
4. Put your items in the purse and close the latch.
NOTE: The purse latch functions best when there are items inside, to provide resistance to the lower part of the purse when the latch is being secured. 
PRODUCT SPECIFICATIONS
Height: 7.8 inches

Width: 4.13 inches

Length: 10.63 inches

Strap Length: 44.1 to 48.8 inches

Handle Drop: 2.75 inches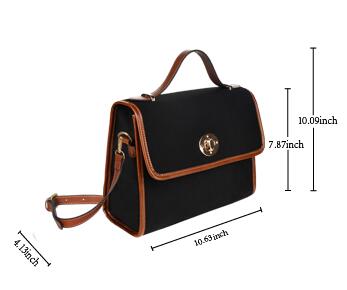 PACKAGE INCLUDES
(1) x Cow Print Crossbody Purse
(1) x Removable vegan leather shoulder strap, adjustable length
CONGRATULATIONS!
You found a hidden discount code! Use code "KAPOW10" at checkout to claim an additional 10% off your ENTIRE order! ☺
CUSTOMER SUPPORT
Email: support@bluestartrader.com
Phone: +1 (888) 782-7677
SHIPPING
Each item is made-to-order and takes about 5-7 days to create your item and for you to receive a tracking number. We partner with an international company that makes these purses exclusively for Blue Star Trader. Purses are shipped from China. Please allow 3-4 weeks to receive your custom-made purse.
(Model 1641)(Black Strap)